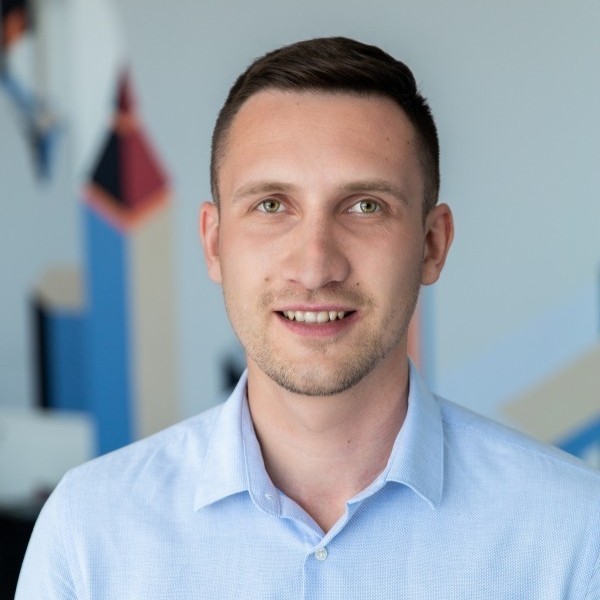 Marius Petroševičius, the CEO of Mportas, can talk about the e-commerce business non-stop. A youthful desire to work with Pigu.lt led the 31-year-old to big business, millions in turnover and international commerce.
Over the past year, Petroševičius' company has grown not by percentages, but by leaps and bounds, with sales revenues increasing from 1.2 to 3.6 million euros.
The Mportas e-shop, which established on the Pigu.lt Marketplace in 2021, is also different in that it is a wholesaler, invests in logistics and warehouses, and has its own brands.
Not an easy start
"A good salesperson must not be afraid of work and numbers," smiles M. Petroševičius, when asked what he would recommend to someone who is still hesitating to start selling online.

The entrepreneur has a wide range of experience – today he sells on many different international Marketplaces, and in Lithuania he sells on Pigu.lt. As he admits, he became passionate about online selling 12 years ago, when he was studying Business Systems Management, a new specialisation then. It was then that the first online stores were created in Lithuania, although online shopping was not yet popular.

"During my studies, I saw that e-commerce was the future. It used to be that you borrowed a car and drove to Poland to sell goods online. Later on, there was a trailer, a van, and finally the first lorry," he says.

His career, which started a dozen years ago, is nothing like what he is doing now, according to the Mportas CEO. Getting used to selling online was not easy. Starting with the popular group portals then, knocking on the doors of online shops and offering competitive prices was tried by hundreds back then.

"I can thank Pigu.lt for pushing me into international commerce. I realised that I couldn't find such good prices in Europe, so I decided to go to China, where there were other opportunities and other prices," recalls Petroševičius.

Today, MPortas has warehouses and a logistics centre nearby, and the company ships around 100 containers of goods a year, ranging from toys and sports equipment to electronics. The company offers around 80,000 products for sale, with more than 2,000 titles on Pigu.lt Marketplace. Some of the products are sold under the company's own brand names.
Expand into other markets
Since 2021, the company has sold more than 23,500 products through Pigu.lt. Among the reasons for Mportas' success is the decision to operate not only in Lithuania but also in other countries. Today, the company also sells through Pigu.lt in Latvia and Estonia. According to the CEO, sales are growing month by month, and expansion abroad has not required much effort. Pigu.lt took care of the product descriptions and translations.

"So far, we have sold most of our products through Pigu.lt in Lithuania, about half of them, but sales in Estonia and Latvia are also growing steadily. We hope to make a similar leap when we start selling in Finland," says the CEO of MPortas.

He admits that Pigu.lt is not inferior to famous international Marketplaces. "In Lithuania, you can consult all the time, you have a manager assigned to you, whereas in other countries, everything is more difficult from an administrative point of view," says M. Petroševičius.

He also finds it convenient that Pigu.lt is rapidly developing and making customer-friendly solutions, providing financing options and access to warehouses.
Fulfillment by Pigu has proved its worth
Having recently started using Fulfillment by Pigu service, the CEO of Mportas says that warehousing, picking, packing and delivery options take a lot of the burden off the seller's shoulders. He notes that sales increase by around 40 per cent when goods are held in Fulfillment by Pigu's warehouse.

"I would just point out that this service is more suitable for higher-turnover items and not the cheapest ones," advises Petroševičius. The seller has to be very good at calculating, he says, because the purchase price, the profit margin and the price of the service still have to be competitive and attractive to buyers.

When asked whether he would advise young entrepreneurs to sell on Pigu.lt, he has no hesitation. "I think the first piece of advice is to overcome all your fears. I experienced all this first-hand – I had to live in China for two months, communicating with gestures, analysing figures and negotiating with people who don't even understand English. So anything is possible", says the entrepreneur.
He says that today many things are much simpler, with most communication taking place through emails and web apps. And the language of numbers is the same everywhere, says Petroševičius.

His second piece of advice to those who want to try the Marketplace is to dare to enter the competition and find a way to offer quality at a good price. According to the entrepreneur, this can only be achieved by making deep analyses, observing the market and its trends, and looking for producer and supplier contacts.
Discover my e-shop on PHH Group Marketplace in: